Get Quality Memo Assignment Help from Dream Assignment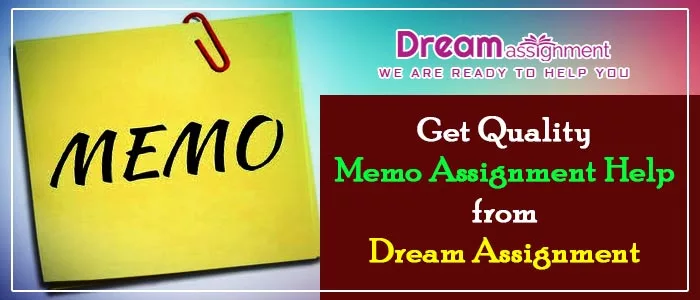 Do you have problems with writing memo assignments? Need memo assignment help? A memo can be defined as a written message, which normally is used in a business office. Sometimes people call memo as Memorandum. If we talk about the purpose of memorandums, it has a twofold purpose. These days, the importance of memo is immense. It is used to mention new information like policy changes, price increases, etc. After reading the memos, the reader immediately takes action such as arrange a meeting or change a present production plan.
Memo is an abbreviation of memorandum and this type of assignment is given to students who are pursuing courses related to business studies or business administration. The assignments related to notepad do fall in this category they are at times even known as memo pad. These days, memo is written in the Email. Students must know the technique to write a memo.
How to Write a Memo?
Generally, the format of a memo is informal and public. Memo is a great medium to communicate with office employees or colleagues to discuss important business decision making. To write an effective memo, follow the following steps:
Step 1: Write Heading for Your Memo
#1: At the top of the paper, write "MEMORANDUM".
#2: Address the recipient properly. For example, if you want to send a memo to all your employees, Type-
To: All Employees
#3: Add additional recipients in CC.
#4: Mention your name under CC line.
#5: Write DATE
#6: Find the subject of the memo and write it like:
Subject: Write your memo's subject
#7: Format your heading properly.
Step 2: Write the Context and Body Section of Your Memo
#1: While you write your memo, consider the audience that how type of audience will read your memo. Write accordingly.
#2: Don't need to mention any formal greeting.
#3: In the first paragraph, introduce the issues or problems for which you are writing the memo.
#4: Provide solid contexts of the issues you are mentioning.
#5: Provide evidence and logical reasons for the solutions to those issues.
#6: Suggest actions that the reader should take.
#7: Finish the memo with a positive and gracious summary.
Step 3: Finalize the Memo
#1: Format your memo accurately. For example, you must use the following:
● 12 font size
● Times New Roman or Arial font
● Block style paragraph
● Double spacing between every line
#2: Proofread your memo.
#3: Provide your hand-written signature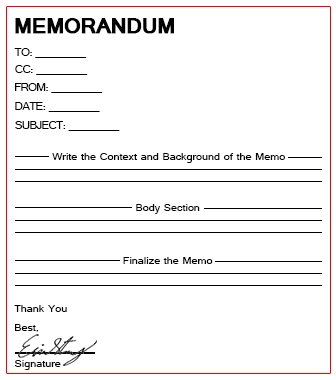 Memo writing looks an easy task but for a fresher, it is quite challenging. To write a memo, you must have an idea in proper formatting. A memo can be written in different formats i.e. APA, MLA, Chicago, Harvard, etc. A memo can be divided into different sections i.e.
● Heading
● Context and background
● Body
● Supporting researched evidence
● Conclusion
● Other attachments
Within these different parts, the main 4 parts of a memo are
1. Heading
2. Subject and Date
3. Main Body, (actual message)
4. Specimen copy of the memo
So, when you write a memo, you must take of these different parts of the memo. We know, it is a tough job for students. For that reason, our experts are here to help them by writing their memo assignment. We are providing memo assignment help in USA for a long period of time and we know how do you cite in a memo. So, to make your memo assignment according to the instruction guidelines, you should need to choose our assignment help experts.
Why Should You Hire Us for Memo Homework Help?
When you search for need memo homework help, you can see lots of results on the internet. Dream Assignment is one of them. Students from USA, prefer us mostly, when their school, college or university professor assigns them memo assignment. All students want to score the best marks in exams and for that reason, they choose expert service from us. As we are providing memo assignment help for a long span of time, we have gained lots of experience. With our experiences and skills, we can write any kind of challenging memo content accurately. Besides, memo homework help, we also provide flow chart assignment help to students.
We are time punctual. We know the importance of a deadline. We complete your memo writing assignment within your stipulated time limit. Students prefer our memo homework help mostly because we care about quality. We never compromise our writing quality for the pressure of bulk assignments. At the end of the day, we provide the best memo writing assignment to students. We are expert in writing different types of memo assignments.
Types of Memo
1. Request Memo
2. Confirmation Memo
3. Periodic Report Memo
4. Ideas and Suggestions Memo
5. Informal Study Results Memo
Our expert memo writers are available 24 hours in a day for you. When you need help in writing memo assignments, you can contact us anytime. Our price of memo assignment help is also very affordable because we want every student must taste the highest grade of exams. We are here to help you. Hire us now!