Excellent Cash Flow Statement Assignment Help to Enhance Your Academic Score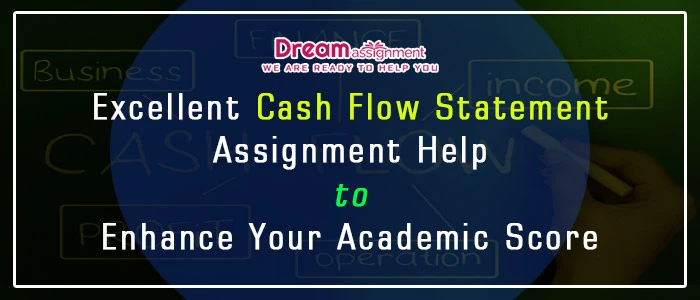 In business, cash and cash equivalents are one of the most important factors. The cash flow statement homework help gives the idea of cash inflow and cash outflow of the business at a particular time period. It only consists of cash revenue/expenses in operating, financing, and investing activities in the business. Cash flow statement does not show the picture of profitability, but it describes the cash position of the entity at any specific time period by measuring revenue against outlays.According to the accounting experts, cash flow statement is a compulsory aspect of financial statements of an organization. A comprehensive cash flow statement homework help can aid you to comprehend about a company's operating functions, key money resources, and how the cash is being invested. Availing cash flow statement assignment help designed by the expert professionals of Dream Assignment can assist you to remove the burden of your tasks and build a quality assignment on cash flow.
What is Cash Flow Statement? (Definition and Methods)
Cash flow statement helps to display the effects in cash/cash equivalent by way of changes in accounts (income statements/balance sheets). A reconciliation of beginning as well as ending cash balance is compulsory. Some cash flow examples include issuance of stock, issuance of debt, payment of dividends, cash paid for buying back common stocks, payment of cash to retire debt etc.
Methods to prepare cash flow statements?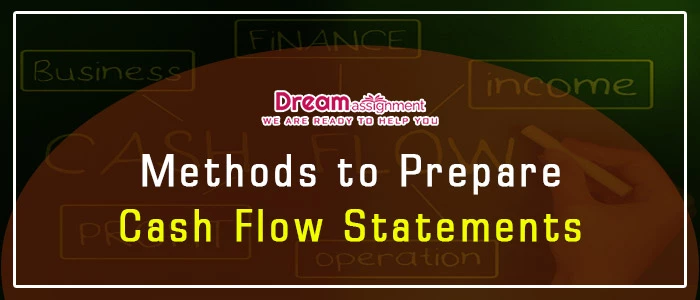 ●Direct Method
:
This is a comparatively easier method. It reports on the major classes of gross payments and receipts in terms of cash. The information of gross receipts/payments can be obtained either from the accounts book of the enterprise or making adjustments in revenue, cost of sales, interests, operating receivables/payables etc.
●Indirect Method
:
This technique is used almost universally, as the statute demands a supplementary report if the direct method is chosen to generate a cash flow statement. The indirect method uses the amount of net profit before tax, as well as makes some adjustments like the following:
●Changes in inventories, operating payables, and receivables
●Non-cash items like provisions, unrealized foreign exchange gains/losses, depreciation, and deferred taxes.
●Other investing and financing activities that affect the cash flows.
How to Prepare Cash Flow Statement?
The indirect method is used by most of the business entities. However, FASB (Financial Accounting Standards Board) prefers the direct method in cash flow statement assignments. In cash flow statement homework help, you must refer the comparative balance sheets and income statements to prepare the statement. There are mainly three sections in a cash flow statement.
Operating Activities
:
It indicates the cash inflows and outflows in a company for the main operations of the business such as producing goods or delivering services. The operation components reflect how much cash is generated from the business operations. The main items may include:
Operating cash receipts:
●Cash sales
●Cash collected from customers
●Commissions received
Operating cash payments:
●Cash purchase
●Operating expenses
●Cash to suppliers
Investing Activities
:
It records the cash outflows for the acquisition of debts, fixed assets, equity securities, and loans. The items under this head:
●Sale/purchase of fixed assets
●Sale/purchase of intangible assets
●Sale/purchase of investments
●Income from rent etc.
Financing Activities
:
It indicates the future cash flow claims by at present investors providing funds. The main activities include:
●Dividend payment
●Loan repayment
●Payment of interest
●Redemption of preference shares/debentures etc.
On the other hand, the direct method is to be used by restructuring the charts of accounts. It consists of following heads:
●Cash flows from revenue
●Cash payments
●Income tax paid
●Payment of interests etc.
Why Choose us to make Cash Flow Statement Assignment Help?
Cash flow statement is complicated to accomplish because lots of interpretations and minute calculations are involved. The aspects related to cash flow statement assignments require analytical capability as well as intense knowledge. The accounts and finance experts employed by Dream assignment are professionally and academically too skillful and experienced to accomplish your cash flow statement homework help. If you are facing problems in other cash flow related topics, feel free to visit our website for Taxation assignment help and Accounting assignment help. Our online writing experts are well-qualified in calculations, thesis writing, essay paper writing and provide services all over the USA, particularly in New York, Washington, Texas, and Los Angeles.
What are the Key Services Provided by our Accounts Experts?
➢Plagiarism free papers are written from scratch
➢24x7 customer support service
➢Affordability with originality and specialization
➢Timely delivery of orders
➢Unlimited revisions for free
➢Quality guarantee, privacy guarantee, price guarantee
So, if you are searching the best cash flow statement homework help, Dream Assignment is the accurate choice for you. We'll give you the best standard and proper guidance at an affordable price. Get our service from the quality cash flow statement assignment tutors today and step a foot ahead towards your academic success.