Drones for Surveying - Interesting Debate Topic of Civil Engineering
Posted in Engineering Assignment Help and tagged as civil engineering topics, uses of drone, purpose of drones, civil engineering assignment help
Drone for Surveying in Civil Engineering
Technology developed as a year in a single day, as well as uses of technology also changed theodolite to drone in case of surveying in civil engineering. Drone technology is one of the emerging and trending technologies, that we are desire to use it in our projects and applications. Our topic is on the drone for surveying in Civil Engineering, but before discussing that topic we required some basic knowledge about surveying and drone technology.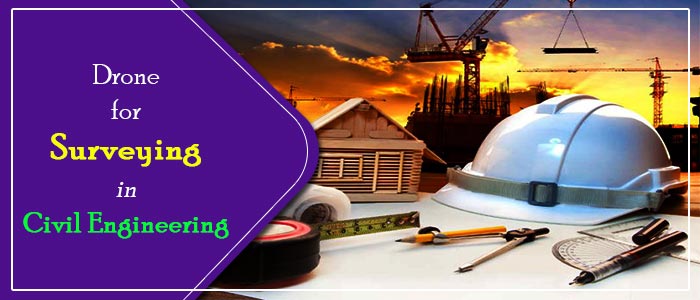 In civil engineering, they use surveying to estimate the positions of points, angles between points and distance between points for designing the map, planning a project, etc. Behind a successful project of civil engineering their required an accurate surveying practice. There are different types of surveying in civil engineering included compass surveying, plane table surveying, theodolite surveying, photographic surveying, chain surveying.
Civil engineering is a vast subject to study including the construction of buildings, bridges, highway, dams, tunnels, etc. Students in this often avail civil engineering assignment help online service for accomplishing their assignments.
A drone is known as unmanned aerial vehicles, and it is used in various fields of applications. In civil engineering, the drone is used for surveying which enhances the process more fast, easy and provides accurate outcomes. By using drones in surveying, engineers can save more time and cost, for this reason, it is one of the most trending practices of civil engineering projects.
The Drone plays an important role in civil engineering work. The drone used to fly over the construction site and sends back a detailed image of the entire site for planning logistics for further steps. The top view of drones provides an aspect of challenges and reveal the entire image of the land of surveying. With the help of drone civil engineers can estimate the risks and able to make planning for those risks.
Drones provide a real-time scenario with the help of an overhead perspective and 360 degrees panoramas. The drone makes easy for all the process of surveying for that reason nowadays civil engineers prioritize drone over the theodolite.
What Types of Result Can Be Obtained with a Drone in Surveying?
●3D point cloud
●Orthomosaic maps
●Digital Surface Model
●Digital Terrain Model
●3D textured mesh
A drone is used to capture aerial data with the help of sensors, RGB, multispectral cameras, and LIDAR payloads. When engineers use an RGB camera for their survey they focus on the photographed that clipped from various angles at different times. Each photographed of an RGB camera is tagged with coordinates. After gathering the data, it is used to generate georeferenced orthophoto and implementing 3d model of the construction area and elevation models. The drone used to provide an accurate map that enhances the accurate distance and volumetric measurements.
Uses of Drone in Surveying
●Cartography/ Land Surveying.
●Land development and management
●Precise Measurements
●Stockpile Volumetric Measurements
●Slope Monitoring
●Urban Planning
Benefits of a Drone in Surveying
Decrease Project Time and Cost
In the case of normal surveying, there are required huge manpower but uses of drones decrease the manpower. The land-based survey in projects required huge time and cost where drones complete a similar task four times faster in low budget.
Offer Accurate Data
In the case of manual surveying, there should be some error that appears in measurements, but drones are always providing accurate data.
Gather Information from Inaccessible Areas
From where we are not able to get the data, but the drone is able to collect information from those areas. With the help of the drone, we can cross the boundary of unreachable areas.
The main purpose of drones in surveying is to capture aerial data and send it back to the operators. Besides of emerging technology, a drone is also one of the growing civil engineering topics. A drone is used for its simplicity, usability, and affordability. Uses of drones provide an extraordinary service that saves time and cost of practice. By using a drone, you can accelerate the working process, estimate accurate measurement and predicts risks in a construction project.