7 Reasons Why IT Students Want to be A Software Developer?
Posted in IT Assignment Help and tagged as reasons to be a software developer,, why it students become software developers,, it students as software developers,, why do you want to be a software developer, benefits of being a software developer
The software developer is considered the best job all over the world according to the United States News and reports. There are possible special advantages available that make the profession that much cooler!
It is known by all that Information Technology firms and teams need developers for crucial roles. As developers know many applications for making the digital world smarter and appropriate IT team would include one developer for their firm.
The software developer can work to turn the opportunities into extraordinary ideas. The main three reasons that IT students choose their profession as a software developer are high demand for developing work, real and creative vision for developing, and good salaries. Software developing jobs become more popular according to time.
What Are the Benefits of Being a Software Developer?
Nowadays, IT students get many options and advantages by choosing software development as a career. This field actually suffers the talent shortage and high demand for developers. So, it gives challenges to the recruiters to choose one talented candidate for their company.
There are some qualities that should be within a software developer like, the learning ability of different technologies, the ability to communicate through complicated work procedures, the awareness about business and commercials, and written or verbal skills.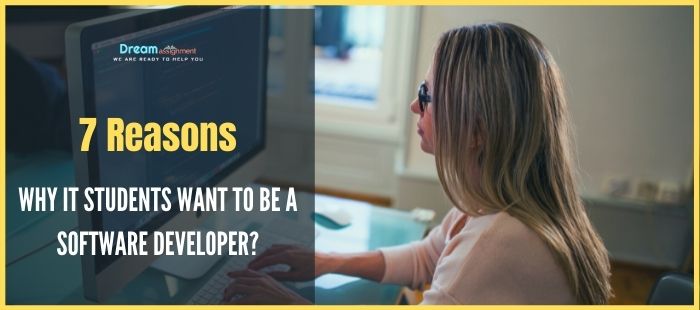 Some reasons for what IT students prefer software developing are,
❶Enrich Their Vision
Many high-tech companies hire software developers. When an IT student chooses software development as a career, he/she will get the chance to accomplish your vision for service more efficiently and faster. They can get a team that can guide them and helps them to know more about development. By working together, they can add more traits to their products.
❷The High Pay Rate
According to the government, the average earning rate of software developers is between 60 to 80 thousand dollars that itself a huge amount as salary. according to other professions, the software developer is actually the high paying job. IT students would love to choose it as it has a high income.
❸Transfer Opportunity
In this digital craze timing, one and zero consider as the universal language that remains the same to any country or nation. The software developer can transfer country to country if he or she has the necessary skill that fulfills the demand of every company. The transfer job can also increase your pay.
❹Improving Workflow
When you work under a specialized software developing team, it gives you opportunities to do challenging tasks and increase your work level or working ability. You will learn about product launching and different programming languages. As a developer, you can increase your skills also.
❺Work from Anywhere
For software development, students just need the internet and a PC. If you have a computer and internet connection, then you can perform your work from everywhere. From home to office, outside from home, in your holidays, family visiting, everywhere you can perform your urgent tasks.
❻New Software Solutions
When you work with different teammates who also experts in software development, all of them have different knowledge about developing. By joining a company, IT students can work for new software solutions and increase their work efficiency and ability.
❼Creativity
The most interesting fact about software development is the imaginative world. you must be creative for it. being creative is itself an interesting and cool thing! according to your better imagination, you can work. as a developer, you can work like a creative writer, speaker, and artist. So, enjoy your work!
Why Do You Want to Be a Software Developer?
The passion of every Information technology student is being a software developer in a reputable company. The benefits that make the students more involved to learn about software development are
● Good pay and economic opportunities.
● The skills are exchangeable and your work through all over the world.
● Work efficiency
● Change to work for different software companies
● Increasing learning curve and ability
● Make coding work special.
To be a software developer in a reputable company, you must have good skills. Besides this, you should have a good result in your semester as well. otherwise, you will not be qualified for that post. For that reason, to improve exam scores, IT students take information technology homework help and software engineering assignment help to accomplish their certain project.
Software development is growing within time in the modern business system. Every industry, company, website, and different program needs coding work to generate revenue. That's why people with IT background would try to choose software development as their further career. Even different industries look for a proper software developer.